Legal Analysis Of The Decision Number: 22 / Pdt.g / 2019 / Pn.bgl. to The Employment Contract Between Cv. Tapan Gems Construction With Public Works And Spatial Planning Department Bengkulu Province
Rani Alfiani

Fakultas Hukum, Universitas Muhammadiyah Bengkulu

Mikho Ardinata

Fakultas Hukum, Universitas Muhammadiyah Bengkulu

Ahmad Dasan

Fakultas Hukum, Universitas Muhammadiyah Bengkulu

Sinung Mufti Hangabei

Fakultas Hukum, Universitas Muhammadiyah Bengkulu
Abstract
The purpose of this research is to find out the legal responsibility in the event of the failure of one of the parties in case number 22 / Pdt.G / 2019 / PN.Bgl. (2). To review the judge's considerations and legal bases in decision No. 22 / Pdt.G / 2019 / PN.Bgl. This type of research is normative legal research using qualitative methods. The results of this study show that the legal responsibility in the event of late payment by one of the parties in Case No. 22 / Pdt.G / 2019 / PN.Bgl is to pay the damage suffered to the obligee, or briefly referred to as compensation if brought forward a judge, reimbursement of costs, losses and interest for failure to perform an agreement under Article 1243 of the Civil Code. The judge's reasoning and legal basis in the decision in case No. 22 / Pdt.G / 2019 / PN.Bgl was that the plaintiff could not prove the core of the problem in this case, that the construction of drainage and cliff coverings for the Muara-Aman-Test Road in Lebong Regency was 100% completed, Witness - the witnesses and the evidence presented by the defendant agree, the defendant was able to prove that the work done by the plaintiff was not 100%, but 60, 15% it was stated that the plaintiff does not execute the employment contract (contract) and thus the plaintiff cannot prove the reasoning of his claim, on the other hand the defendant was able to prove his counter-argument, so that the plaintiff's claim is completely rejected
Downloads
Download data is not yet available.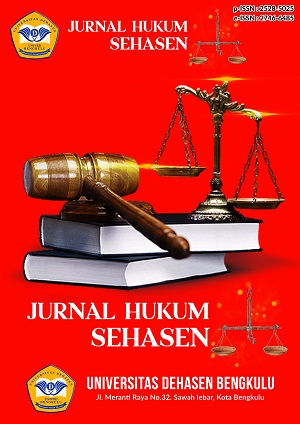 How to Cite
Alfiani, R., Ardinata, M., Dasan, A., & Hangabei, S. M. (2022). Legal Analysis Of The Decision Number: 22 / Pdt.g / 2019 / Pn.bgl. to The Employment Contract Between Cv. Tapan Gems Construction With Public Works And Spatial Planning Department Bengkulu Province. JURNAL HUKUM SEHASEN, 8(2), 113 -. https://doi.org/10.37676/jhs.v8i2.3079
Copyright (c) 2022 Rani Alfiani, Mikho Ardinata, Ahmad Dasan, Sinung Mufti Hangabei
This work is licensed under a Creative Commons Attribution-ShareAlike 4.0 International License.