Communication Strategy of the National Narcotics Agency (BNN) in Overcoming Drug Users in Bengkulu City
Sandi Aprianto

Fakultas Hukum, Universitas Dehasen Bengkulu

Ana Tasia Pase

Universitas Dehasen Bengkulu

Tria Hafifah

Universitas Dehasen Bengkulu
Abstract
The purpose of this study was to determine various kinds of developments both in form and substance. In ancient times, drugs were only limited to opium and marijuana (natural), but the impact of the development of science and technology has also developed from the substance and form of drugs by conducting chemical studies by chemists who are used by drug manufacturers. to produce drugs to be more developed and varied so that they can benefit the perpetrators. This type of research is descriptive qualitative research, so that it can be described systematically about a situation, situation, and phenomenon, about the communication strategy of the National Narcotics Agency in tackling drug abuse in Bengkulu. The Bengkulu National Narcotics Agency does not have a specific strategy in conveying communication about the dangers of this drug, but when the researchers conducted interviews there were people who were reluctant to cooperate in eradicating this drug trafficking, even people who were addicted were reluctant to report and were reluctant to be rehabilitated by the National Narcotics Agency. Bengkulu, even though the aim of the Bengkulu National Narcotics Agency is very good to help the dependent.
Downloads
Download data is not yet available.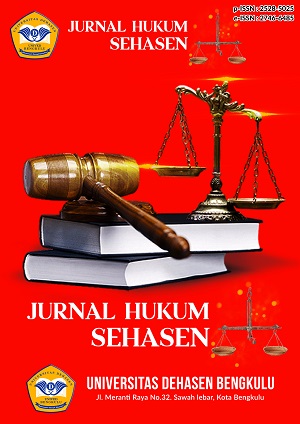 How to Cite
Aprianto, S., Pase, A., & Hafifah, T. (2022). Communication Strategy of the National Narcotics Agency (BNN) in Overcoming Drug Users in Bengkulu City. JURNAL HUKUM SEHASEN, 7(2), 41–46. https://doi.org/10.37676/jhs.v7i2.2227
Copyright (c) 20221 Sandi Aprianto, Ana Tasia Pase, Tria Hafifah
This work is licensed under a Creative Commons Attribution-ShareAlike 4.0 International License.