Legal Protection for Children as Divorce Victims According to Law Number 1 of 1974
Widya Timur

Fakultas Hukum Universitas Dehasen Bengkulu

Ferawati Royani

Universitas Dehasen Bengkulu

Jensen Idiansah

Universitas Dehasen Bengkulu
Abstract
The purpose of this study was to determine the relationship between a man and a woman who were bound in a marriage bond. It is based on Article 1 of Law Number 1 of 1974 concerning Marriage (Law No. 1 of 1974). This study uses the Juridical Empirical approach. This approach aims to understand that the law is not merely a set of statutory rules that are normative in nature, but the law is understood as the behavior of people who are symptomatic in their lives, always interact and relate to social aspects, such as; economic, social and cultural aspects. the marriage has been broken due to divorce, it does not result in the relationship between the parents (divorced husband and wife) and the children born from the marriage breaking up. Because it is strictly regulated that husband and wife who are divorced still have the obligation as parents, namely to maintain and educate their children.
Downloads
Download data is not yet available.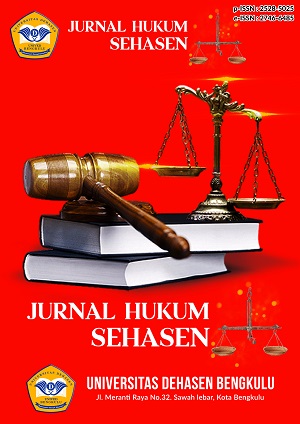 How to Cite
Timur, W., Royani, F., & Idiansah, J. (2022). Legal Protection for Children as Divorce Victims According to Law Number 1 of 1974. JURNAL HUKUM SEHASEN, 7(2), 37 -. https://doi.org/10.37676/jhs.v7i2.2226
Copyright (c) 2021 Widya Timur, Ferawati Royani, Jensen Idiansah
This work is licensed under a Creative Commons Attribution-ShareAlike 4.0 International License.