Membangun Usaha Rumahan Yang Berkelanjutan Dalam Mendukung Ekonomi Keluarga Ibu-Ibu PKK RT 29 Sawah Lebar Bengkulu
Nurzam Nurzam

Program Studi Manajemen Fakultas Ekonomi Universitas Dehasen Bengkulu

Ermy Wijaya

Program Studi Manajemen Fakultas Ekonomi Universitas Dehasen Bengkulu

Ida Anggriani

Program Studi Manajemen Fakultas Ekonomi Universitas Dehasen Bengkulu

Suwarni Suwarni

Program Studi Manajemen Fakultas Ekonomi Universitas Dehasen Bengkulu

Ahmad Soleh

Program Studi Akuntansi Fakultas Ekonomi Universitas Dehasen Bengkulu
Keywords:
Ekonomi masyarakat, hidroponik, kalamansi, kewirausahaan, POC
Abstract
Asia will achieve moderate economic growth so that its contribution to global GDP will only reach 30%. This development is parallel to the increase in per capita income and the number of people in Asia experiencing an increase in prosperity. This increase in prosperity can be done through various efforts, namely by utilizing existing natural resources to be used as a source of improving the community's economy, such as making kalamansi syrup, liquid organic fertilizer (POC) and plant cultivation with a hydroponic system. Kalamansi syrup  is made from the main ingredient of kalamansi orange which is processed to produce a sweet and sour taste. In addition, kalamansi orange peel which is considered as organic waste can also be used in the manufacture of liquid organic fertilizer (POC). Liquid organic fertilizer is a solution resulting from the decomposition of organic materials derived from plant residues, animal and human wastes which contain more than one nutrient element. Liquid fertilizers can also be used in conventional plant cultivation or using a hydroponic system. Hydroponics can be an alternative for limited agricultural land and can be done on land with low fertility or densely populated areas to be used as a fulfillment of daily needs or entrepreneurship.
The service was carried out in RT 29, Sawah Lebar Village, Bengkulu City, starting with the planning stage, seminars to evaluation and direct guidance to PKK mothers. This is done as an effort to increase economic capacity as well as to meet daily needs. Entrepreneurship is one of the reliable factors for improving the community's economy. The seminars and trainings that have been carried out can create jobs, train entrepreneurship skills, be self-sufficient in food, and are able to improve the economy of the community of RT 29 Sawah Lebar Village, Bengkulu City.
Downloads
Download data is not yet available.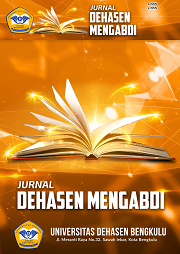 How to Cite
Nurzam, N., Wijaya, E., Anggriani, I., Suwarni, S., & Soleh, A. (2022). Membangun Usaha Rumahan Yang Berkelanjutan Dalam Mendukung Ekonomi Keluarga Ibu-Ibu PKK RT 29 Sawah Lebar Bengkulu. Jurnal Dehasen Mengabdi, 1(1), 45–50. Retrieved from https://jurnal.unived.ac.id/index.php/jdm/article/view/2114
Copyright (c) 2022 Nurzam Nurzam, Ermy Wijaya, Ida Anggriani, Suwarni Suwarni, Ahmad Soleh
This work is licensed under a Creative Commons Attribution-ShareAlike 4.0 International License.