HUBUNGAN POWER OTOT TUNGKAI TERHADAP KETERAMPILAN SHOOTING FUTSAL DI SMP NEGERI 15 KOTA BENGKULU
Apriman Saleh

Martiani Martiani
Keywords:
Power Otot Tungkai, Keterampilan shooting
Abstract
Tujuan penelitian ini untuk mengetahui  hubungan power otot tungkai terhadap keterampilan  shooting futsal di SMP Negeri 15 Kota Bengkulu. bahwa keterampilan shooting para siswa kurang maksimal  sehingga pada shooting bola jarang masuk ke gawang lawan. Masalah ini disebabkan oleh beberapa faktor, antara lain rendahnya tingkat power otot tungkai siswa SMP Negeri 15 Kota Bengkulu.  Metode penelitian ini adalah metode korelasional. Populasi penelitian ini seluruh pemain futsal SMP 15  sebanyak 20 orang sedangkan pengambilan sampel menggunakan teknik  total sampling, Tempat pelaksanaan penelitian di lapangan SMP 15 Kota Bengkulu, adapun waktu penelitian adalah bulan maret 2019. Data power otot tungkai diambil dengan tes vertical jump, dan data keterampilan  shooting diambil dengan tes shoot ke gawang. Teknik analisis data penelitian ini menggunakan teknik dengan analisis korelasi. Hasil analisis data menunjukkan bahwa: Terdapat hubungan yang signifikan antara power otot tungkai (X) terhadap keterampilan shooting  pada siswa futsal di SMP 15 Kota Bengkulu, dengan nilai rxy =0,92> r(0,05)(19) =0,444
Downloads
Download data is not yet available.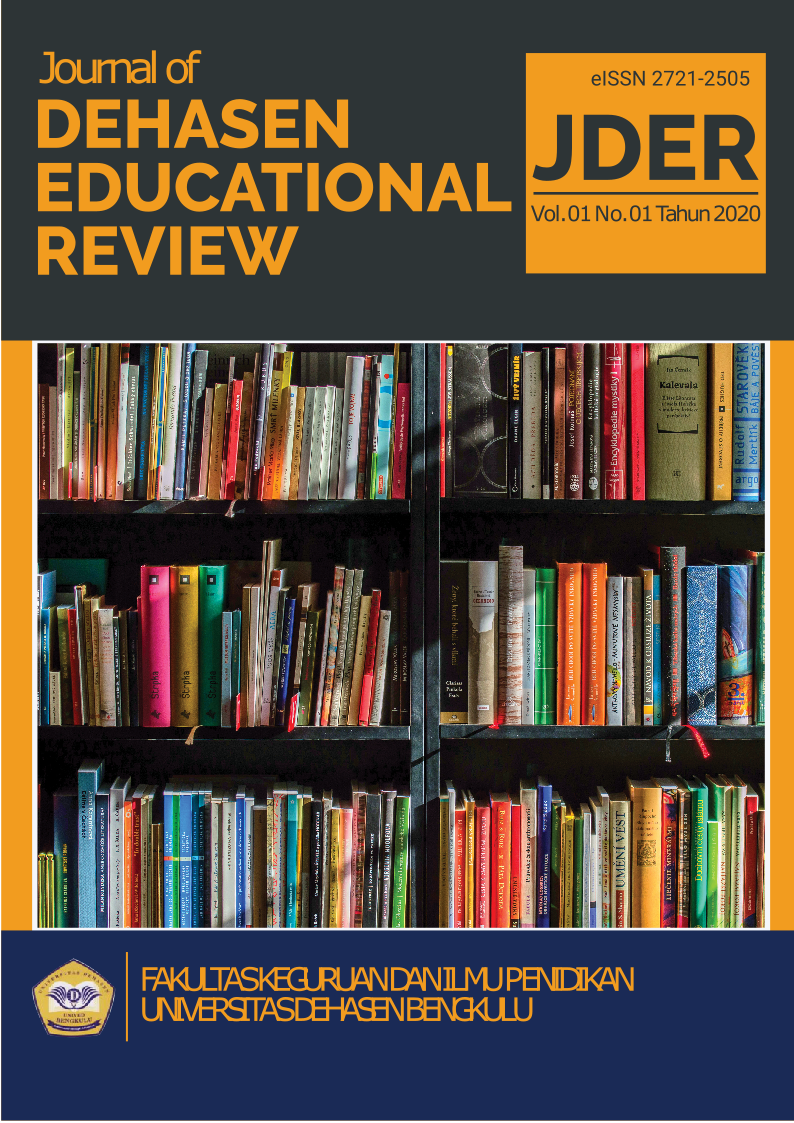 How to Cite
Saleh, A., & Martiani, M. (2020). HUBUNGAN POWER OTOT TUNGKAI TERHADAP KETERAMPILAN SHOOTING FUTSAL DI SMP NEGERI 15 KOTA BENGKULU. Journal Of Dehasen Educational Review, 1(1), 11-19. https://doi.org/10.33258/jder.v1i1.974

This work is licensed under a Creative Commons Attribution-ShareAlike 4.0 International License.