PENINGKATAN HASIL PEMBELAJARAN BOLA BASKET MELALUI PENDEKATAN BERMAIN SISWA SMAN 1 PULAU PUNJUNG DHARMASRAYA
Zuhar Ricky

Universitas Dharmas Indonesia
Keywords:
Basketball Learning, Approach to Play
Abstract
Constraints in this study on the value of Physical Education Sports and Health (PJOK) in basketball learning that is on practical exams such as techniques, passing, shooting and dribbling, the purpose of this study is to improve determining basketball learning outcomes. The problem in this study is that students are not happy in learning basketball, namely menoton and less varied. This research is a classroom action research (action research). The research subjects were students of class XI. MIPA. 1 of 34 students. The time of this study was in October-December 2019. Data collection tools used observation sheets of activity in learning PJOK. Data analysis techniques using quantitative and qualitative descriptive analysis techniques. The results of the study in the first cycle passed 24 people, 10 people did not pass with 71% completeness, 29% incomplete. While in cycle II passed 27 people, did not pass 7 people with 79% completeness, 21% incomplete.
Kendala dalam penelitian ini pada nilai Pendidikan Jasmani Olahraga dan Kesehatan (PJOK) dalam pembelajaran bola basket yaitu pada ujian praktik seperti teknik, passing, shooting dan dribbling, tujuan dari penelitian ini adalah untuk meningkatkan  menentukan hasil belajar bola basket. Masalah dalam penelitian ini yaitu kurang senangnya siswa dalam pembelajaran bola basket yaitu menoton dan kurang variatif. Penelitian ini atalah penelitian tindakan kelas (action reseach). Subjek penelitian adalah siswa-siswi kelas XI. MIPA. 1  yang berjumlah 34 siswa. Waktu penelitian ini pada bulan Oktober-Desember 2019. Alat Pengumpul data menggunakan lembar observasi aktivitas dalam belajar PJOK. Teknik analisis data menggunakan teknik analisis deskriptif kuantitatif dan kualitatif. Hasil penelitian pada siklus I lulus 24 orang, tidak lulus 10 orang dengan ketuntasan 71%, tidak tuntas 29%. Sedangkan pada siklus II lulus 27 orang, tidak lulus 7 orang dengan ketuntasan 79%, tidak tuntas 21%.
Downloads
Download data is not yet available.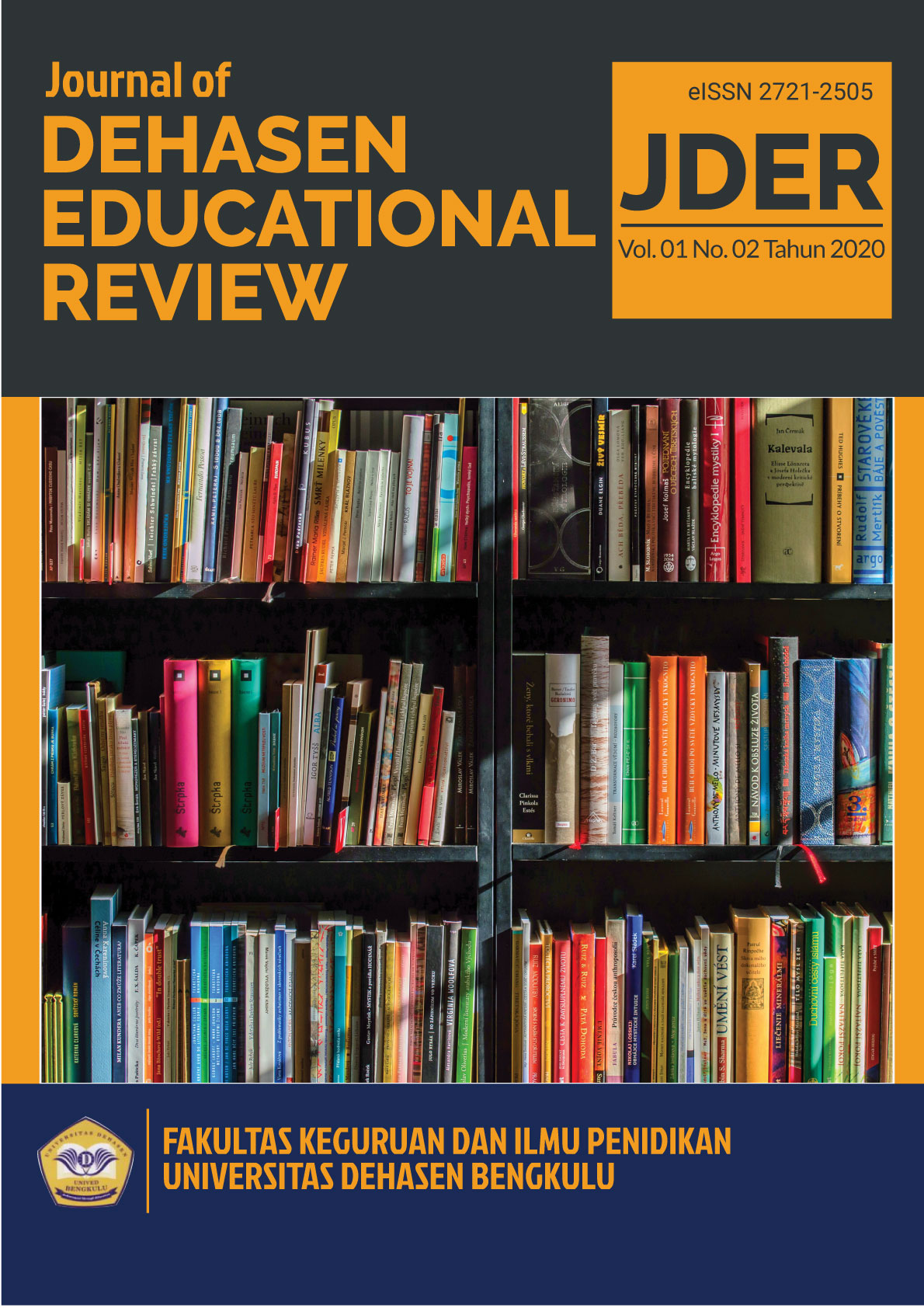 How to Cite
Ricky, Z. (2020). PENINGKATAN HASIL PEMBELAJARAN BOLA BASKET MELALUI PENDEKATAN BERMAIN SISWA SMAN 1 PULAU PUNJUNG DHARMASRAYA. Journal Of Dehasen Educational Review, 1(2), 86-92. https://doi.org/10.33258/jder.v1i2.1045
Copyright (c) 2020 Zuhar Ricky, Almen Almen
This work is licensed under a Creative Commons Attribution-ShareAlike 4.0 International License.

This work is licensed under a Creative Commons Attribution-ShareAlike 4.0 International License.